Phi Theta Kappa recognizes and rewards high-achieving students.
Phi Theta Kappa (PTK) is a national honor society for community college students that provides opportunities through Honors in Action and Five Star Competitive Edge to develop such critical skills as problem solving, project planning, team building, effective communication and conflict resolution. These skills can give you a competitive edge when planning for transfer or applying for jobs. However, members are not required to participate in chapter activies or student development programs.

To become a member of Phi Theta Kappa, you must have and maintain a minimum GPA of 3.5. Contact the PTK Advisor for information on how to join.
There are no current upcoming events, but stay tuned!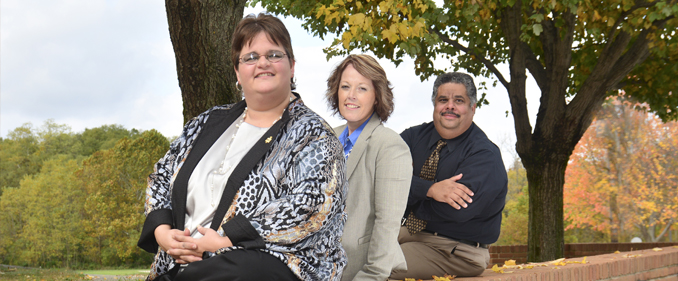 (ltr) Kristi Slavens (President), Connie Huber (Advisor), Charles Stewart (Vice President of Fellowship & Service)
These resources will help current members of Phi Theta Kappa.
Collaborate with fellow PTK members.
Find upcoming national events, news, scholarships and other information.
Find upcoming regional events, news, officers, scholarships, awards and other information.