You have a voice—we want to hear it! The Southern State Singers choral group is the perfect outlet for the songbird in you.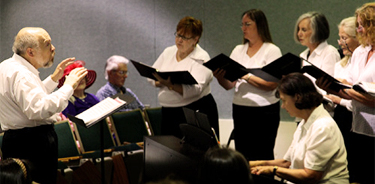 Southern State Singers, in its present form, will begin its 14th year with the start of the fall term and has been under the direction of John M. Glaze during that entire period.
There has been a choral group at Southern State for many years. The current director remembers John Bright directing the group back in the "early days" of Southern State. The accompanist for the group is Melanie MacDowell.
The group is composed of both students as well as community members who make up the core of the group. During the quarter system, the group performed a Christmas concert, a late winter concert and a spring concert each falling at the conclusion of the three quarters. In the semester system, the number of concerts will be cut to two but each will contain more music. In addition, the group has sung for each of the Holiday Heritage Sale events held in early December at the Appalachian Gateway Center at Southern State's South Campus and other college events as well as for community groups in both Hillsboro and Greenfield. Members of the group come from all walks of life as well as ages ranging from high school up to a couple of octogenarian members!
Upcoming Concerts
The relaxed atmosphere of our concerts seems to be one of the features which brings back audiences. Members of the group volunteer to research the repertoire being performed then create and present short introductions to the pieces being performed.
Spring Concert
April 27, 2013 @ 2:00pm | St. Mary's Episcopal Church, 234 N High St, Hillsboro
The Spring Concert will include a wide variety of music, including spirituals such as "Ain't-a That Good News!" and "Little David Play on Your Harp"; folk songs such as "Shenandoah" and "The Terrible Tale of Tom Gilligan"; as well as some more contemporary pieces: "A Farewell" and "Earth Song". Also on the program will be a collection of music from the Broadway Hit, "Phantom of the Opera", "Bill Bailey, Won't You Please Come Home?" and a novelty piece: "Count On It".
Rehearsal
The group rehearses on Monday evenings from 6:00pm to 7:50pm in Room 107 on Central Campus.
Join the Singers
Joining Southern State Singers is easy—just show up! Potential members are invited to come and give us a try without any pressure to join us. There is no charge to belong to the group.
Director
Mr. Glaze is a graduate of Ohio University with a Bachelor of Fine Arts.