Computer Assisted Design
Participate in a uniquely designed co-op program aimed to better position Southern State graduates for future employment in a highly competitive industry.
In partnership with leading industry employers, Southern State Community College is pleased to offer the Associate of Applied Science Degree in Computer Assisted Design with an opportunity to build industry relevant experience through co-op programming.
This custom designed degree is tailored to provide students with a competitive advantage among the country's premier employers. The co-op track option offers students the opportunity to receive focused academic instruction alongside real-world application.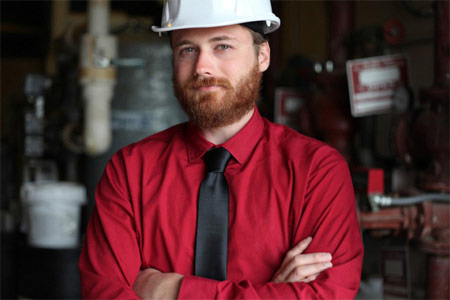 Southern State wants YOU to be successful at achieving your academic goals. We want to CONNECT you to the resources you need to be successful as a student and in life following graduation. If a degree in Engineering is your desire, we have outlined a path to completion that lists required courses to help achieve your goals under the Computer Assisted Design major.
Frequently Asked Questions...
What is a Co-op?
Co-op, or Cooperative Education that is often referred to as "co-op," is a structured method of combining classroom-based education with practical work experience.
How will this benefit me?
If selected, you will work on a full-time basis (40 hours) for 10-15 weeks. And, regardless of your plans beyond college, this experience immediately places you in a more competitive position for future employment—you will have a degree AND experience.
How is the program scheduled?
The Engineering program is conveniently designed to accommodate a variety of student needs. Courses are typically offered in the late afternoon and evening.
How do I qualify?
Entry into the Engineering Co-op Track is selective. It is based on academic achievements and preparation for potential Co-op experiences. Schedule an appointment with us to see if you qualify!
What if I have already completed some college?
Students are encouraged to meet with Amy McClellan to review transcripts.
Will I get paid?
Students selected to participate in the co-op track will be compensated at a competitive entry-level rate.
Need more info?
Our coordinator of academic partnerships will answer the questions you might have about becoming a student at SSCC. Call or email today!
Amy McClellan
800.628.7722 x2785
amcclellan@sscc.edu
Meet Our Partners - those who make this possible!
Southern State Community College offers nearly 30 associate degree programs, seven certificate programs, and the opportunity to seamlessly transfer earned college credits to a four-year institution or to complete a bachelor's degree on site through new partnership agreements.
With four campus locations, Southern State offers close-to-home convenience and a supportive community experience.
Candle-lite has long been recognized as the leader in the decorative candle manufacturing industry.
Candle-lite's business office is located in Cincinnati, Ohio, with its expanded 900,000 sq. ft. manufacturing plant, warehouse and distribution center still in the village of Leesburg. The extensive line of Candle-lite products can be found in major retailers across the United States and Canada and in many fine stores throughout the world market.
GE Aviation's Peebles Test Operation is among the world's most advanced jet engine test centers. Nestled in the foothills of the Appalachian mountains in rural Adams County, the Peebles Test Operation is both an engine test and final assembly facility.
Airborne Maintenance & Engineering Services is a one-stop total solution aircraft maintenance, repair, and overhaul (MRO) provider. Their three hangar (210,000 sq ft) repair facility and our component repair facility (100,000 sq ft) are strategically located at the Wilmington Air Park, centrally positioned between Cincinnati, Dayton, and Columbus, Ohio. In addition we operate line maintenance stations at the Greater Cincinnati Airport (CVG) and Miami International Airport (MIA).
UFP Blanchester is a leading supplier of industrial panels and lumber. UFP has the inventory and capabilities to supply the products you need, when you need it. UFP Blanchester is a subsidiary of Universal Forest Products, a multibillion-dollar business with approximately 100 affiliates throughout North America and Australia that supply wood and non-wood products to three robust markets: retail, construction, and industrial. Headquartered in Grand Rapids, Michigan, UFP is grounded in the Midwestern values of hard work, honesty and determination.
Kenworth is the manufacturer of The World's Best heavy and medium duty trucks for over 90 years. In 1923, H.W. Kent and E.K. Worthington rolled their fist prodution Kenworth out the door. From that day forward, Kenworth has continued to forge a reputation for craftsmanship, durability, and engineering excellence that is unrivaled in the world today.
*Disclaimer: Acceptance into the SSCC Engineering Program does not guarantee acceptance in the co-op track or employment with participating partners.
Step 1
Complete Admission Application
Apply electronically with our online application form: www.sscc.edu > Admission > Apply for Admission or visit an SSCC campus near you to complete in person)
Step 2
Submit Financial Aid Application
Applying for financial aid has never been easier. Visit www.sscc.edu > Admission > Apply for Financial Aid and follow the steps to see what you will qualify for.
Step 3
Complete Admission Application
All students begin college career with different skills. An assessment will provide you guidance in selecting courses that will enable you to establish the best foundation for success. To schedule, visit us at www.sscc.edu > Admission > Placement Assessment
Step 4
Schedule an Appointment
Our coordinator of academic partnerships will answer the questions you might have about becoming a student at SSCC. Call or email today!
Amy McClellan | 800.628.7722 x2785 | amcclellan@sscc.edu