Agriculture is part of everything we do. It is one of the most important majors you could choose because it addresses a basic human need – FOOD! A degree in Agriculture can teach you the essentials of planting, cultivation, fertilization, harvesting, processing, and fruit and vegetable distribution as well as the most effective ways to raise, breed, and market livestock. As a graduate of the program, you could enter a variety of careers in business, government, or a nonprofit sector like working for yourself. Ready to get started on your agriculture pathway?
Program categories in this pathway:
Concentrations:
Associate of Science Degree
Potential Career Opportunities:
This information is provided by ONetOnline.org
Employment OUTLOOK:
At SSCC, we tailor our degrees and certificates to reflect growing trends in employment opportunities. To view current Job Postings related to the Agriculture pathway visit: OhioMeansJobs.com.
STUDENT RESOURCES
At Southern State, YOU are more than just a number or face in the crowd. We care about your success and want you to reach your full potential. Achieving your goals is our #1 priority. Ready to get started?
Apply - Our FREE admission application can be accessed online at www.sscc.edu/admissions/apply.shtml
Have Questions? Connect with us today
Call us today at 800.628.7722 x2607
The staff of the Office of Financial Aid is happy to answer any questions you may have. We are all about helping you afford college as well as connecting you to the resources you need to do so!
Paying for college - Applying for financial aid has never been easier. Visit www.sscc.edu/financialaid/ and follow the necessary steps to see how much aid you are qualified to receive.
Have Questions? Connect with us today
Call us today at 800.628.7722 x2610
STUDENT TESTIMONIALS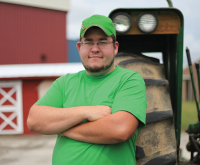 "One of the reasons I decided to enroll at Southern State was the location. It was hard for me to find a college that was close enough to my home where I could commute. I wanted to major in agriculture, so it was the perfect fit. The agriculture program at Southern State is really great. There is a greenhouse on campus which provides a lot of hands-on experience. A variety of classes are offered related to agriculture, anything from Animal Science, Crop Science, Soils, Beef Cattle Management, to Greenhouse Management. If you are interested in agriculture, Southern State has a class for you. If you are not interested in getting a two-year degree, the college also offers a one-year certificate in Horticulture. The greenhouse provides a perfect learning environment for that."
"My time spent at Southern State has been very beneficial and I have learned a lot that will help me in my future career. I am proud to say that I am a Southern State graduate. I made a lot of friends and memories during my time here and I would encourage anyone interested in making agriculture a career, to check out Southern State's Agriculture program. They have a lot to offer!"
Tyler Tucker | Southern State Graduate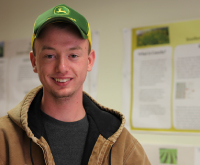 "Southern State has provided me with an affordable option to get my college education. The agriculture program has allowed me to gain hands-on experience in the field that I plan to go into. Pursuing my agriculture production degree at Southern State has been one of the best decisions Iíve ever made."
Joshua W. | Southern State Graduate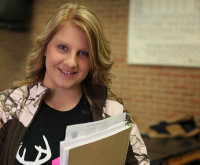 "Attending classes at Southern State Community College has given me a good foundation toward obtaining a teaching degree in agriculture. Southern State has allowed me to make the transition from high school to college easy and very beneficial. I love it here!"
Kristen S. | Southern State Alumni