Biotechnology Articulation Agreement with Wilmington College

Wilmington College and Southern State Community College have partnered to increase access and affordability to a four-year college education by establishing a Biotechnology Transfer Pathway for students interested in biotechnology.
Students can spend two years taking courses at Southern State's North Campus in Wilmington that can seamlessly transfer into a bachelor's degree program at Wilmington College – with an opportunity to reside on WC's campus all four years and SAVE BIG on college costs!
Earn Your Associates of Applied Science and be a part of a Thriving Student Life!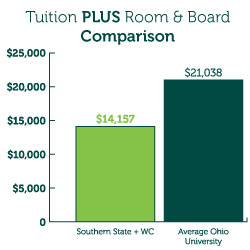 Wilmington College and Southern State Community College have teamed up to make your educational experience affordable and convenient. We have partnered together to offer students an opportunity to study in a growing academic area as well as have the campus experience!

Students interested in the science field have the opportunity to study Bio-Technology at Southern State Community College and live On-Campus at Wilmington College! This opens the door for students to save money and still have the college experience.

Wilmington College and Southern State Community College are partners in education. Once students complete their Associates of Applied Science Degree they can seamlessly transfer to Wilmington College to complete their Bachelorís Degree.
What is Bio-Technology?
Bio-Technology and Laboratory Science is a program focused on using principles of biology and technology to solve scientific issues.
It is a growing industry that implements the use of living systems and organisms advance technology in agriculture, food production, and forensics, pharmaceutical and medical fields
Going beyond the classroom:
Bio-Technology can lead to career opportunities in healthcare, food productions, forensics, and agriculture. According to the Bureau of Labor Statics employment in these fields along with other biotechnology fields has the potential to grow by 10% by the year 2022.
Wilmington College has been named among the Top 10 Ohio schools with the best lifetime return on investment by AffordableCollegesOnline.org. The study ranked schools that deliver "a high-quality education with consistent, long-term payoffs in the workplace".
Pathway to Completion:
First Semester at SSCC
Second Semester at SSCC
Third Semester at SSCC
Fourth Semester at SSCC
Electives
Program Total: 61
While at Southern state students are expected to complete course work with a C- or better.
Pathway to Wilmington College
While at Wilmington College students will complete the following course work with a grade of C- or better PLUS complete all Wilmington College General Education and Graduation Requirements. Once completed students will receive a Bachelorís of Science Degree.
Wilmington College Courses
Students will complete an assessment exam in the year of graduation. This exam is a component of the Biology Department assessment program. No minimum score is required for graduation.
Living at Wilmington College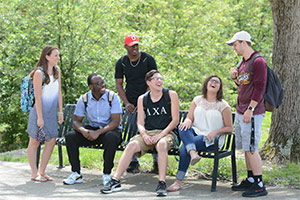 At Wilmington, your education occurs not only in the classroom, but campus-wide and beyond. This is accomplished through encouraging academic internships, involvement in co-curricular activities and other opportunities for leadership development and personal growth.
Student Life at Wilmington College
Meet new people, learn a lot, and leave with some of the best memories of your life.
The Student Life division has two primary missions: first, to support the academic mission of the College by fostering a community atmosphere that cultivates success while offering co-curricular opportunities that complement the classroom. Second, to implement programs to create experiences that promote student involvement, personal growth and development, and integrity. We embrace the differences that make us individuals while celebrating the traditions that make us a community.
Housing and Residence Life at Wilmington College
The Housing and Residence Life Office is located in Pyle Center and is staffed from 8 a.m. until 5:00 p.m., Monday through Friday. The residence halls at Wilmington are more than just places to sleep and to study. They are living-learning environments that promote individual growth and development.
Biotechnology Associates Degree from Wilmington College
Biotechnology is a growing industry that implements the use of living systems and organisms to develop or make products. By using principles of biology and technology in the lab to solve scientific issues, this branch of science is used to advance technology in the agriculture, food production, forensic, pharmaceutical and medical fields, and more!
How To Become A Student
Ready to enroll?
Apply for admission by accessing the Southern State Community College Online Application Form.
Paying for college?
Applying for financial aid has never been easier. Visit Financial Aid and follow the necessary steps to see what you quality for.
Learn More About The Program!
Call us today! The friendly staff members at Southern State Community College and Wilmington College are ready to answer all the questions you may have about participating in our Biotechnology Transfer Pathway. We will assist you every step of the way!
Heather Miller
Transfer Admission Counselor
Wilmington College
937.481.2426