Information for Employees
What if I'm sick or have been exposed to COVID-19?
All questions and concerns related to COVID-19 should be directed to the COVID-19 Coordinator, Susan Morris, by phone (937) 509-7828 or email covid19@sscc.edu.
Use the Employee Process Map for COVID19 Concern and COVID19 Close Contacts to assist with determining the process to resolve transmission threats to our SSCC community.
For more information on symptom monitoring, testing, and guidelines for suspected cases, exposure, and close contact visit the Response Procedure webpage.
Given what is currently know about COVID-19 and the Omicron variant, CDC is shortening the recommended time for isolation for the public. The guidelines have been adopted by ODH and we will implement these guidelines at SSCC. This information will be updated on the SSCC website and published in next week's newsletter.
Basically,
People with COVID-19 should isolate for 5 days and if they are asymptomatic or their symptoms are resolving (without fever for 24 hours), follow that by 5 days of wearing a mask when around others to minimize the risk of infecting people they encounter.
People who are exposed to COVID19, who are unvaccinated or vaccinated, but not up-to-date or have NOT received the booster in the timeline recommended, follow a 5 day quarantine and test. If test positive or develop symptoms, then follow the guideline for People with COVID19 (refer to 1.).
The change is motivated by science demonstrating that the majority of SARS-CoV-2 transmission occurs early in the course of illness, generally in the 1-2 days prior to onset of symptoms and the 2-3 days after.
There are some specifics that are outlined in the following document from ODH.
EMPLOYEE Request for Facial Covering Exemption
This form is used to initiate a request for an exemption from wearing a facial covering in the workplace due to a health condition. Please complete and return the Request for Facial Covering Exemption Form to Human Resources via email at HR@sscc.edu. Once submitted, you may be contacted for additional information. Please note that an exemption based on the submission of this form is temporary until adequate medical documentation has been obtained to support a permanent exemption. Medical information obtained during this process is confidential and only notification of approved accommodation will be shared with persons needing to know.
Healthy CONNECT Pledge
SSCC's goal is to connect you to a healthy future by overcoming fear and nurturing good lifestyle choices needed to eliminate COVID-19 transmission. As a SSCC student, staff or community member, we ask you to take care of yourself and your community and pledge your compliance to the expectations outlined in the pledge. Take the SSCC Healthy CONNECT Pledge!
Travel During COVID-19
SSCC will be observing the CDC guidelines for travel, therefore all employees and students should plan accordingly. The Ohio Department of Health (ODH) is no longer issuing a travel advisory for those entering Ohio after traveling to states reporting positive testing rates of 15% or higher. Instead, ODH has revised its travel guidance to encourage Ohioans to carefully review Centers for Disease Control and Prevention (CDC) guidance when considering travel.
This change means the state-by-state list will no longer be updated. Even as more individuals are vaccinated across the United States and in Ohio and testing availability continues to improve, travelers should still practice appropriate public health measures to slow the spread of COVID-19, such as wearing masks, practicing physical distancing, and washing your hands.
CDC recommends delaying travel until you are fully vaccinated, because travel increases your chance of getting and spreading COVID-19. If you are not fully vaccinated and must travel, follow CDC's recommendations for unvaccinated people traveling internationally or domestically. For all travel, take preventive measures to protect yourself and others, such as wearing a mask for the duration of your trip. Masks are required on planes, buses, trains, and other forms of public transportation traveling into, within, or out of the United States and in U.S. transportation hubs such as airports and stations.
Updated CDC guidance related to domestic travel during the COVID-19 pandemic includes recommendations and requirements based on vaccination status. In a nutshell, it looks like this: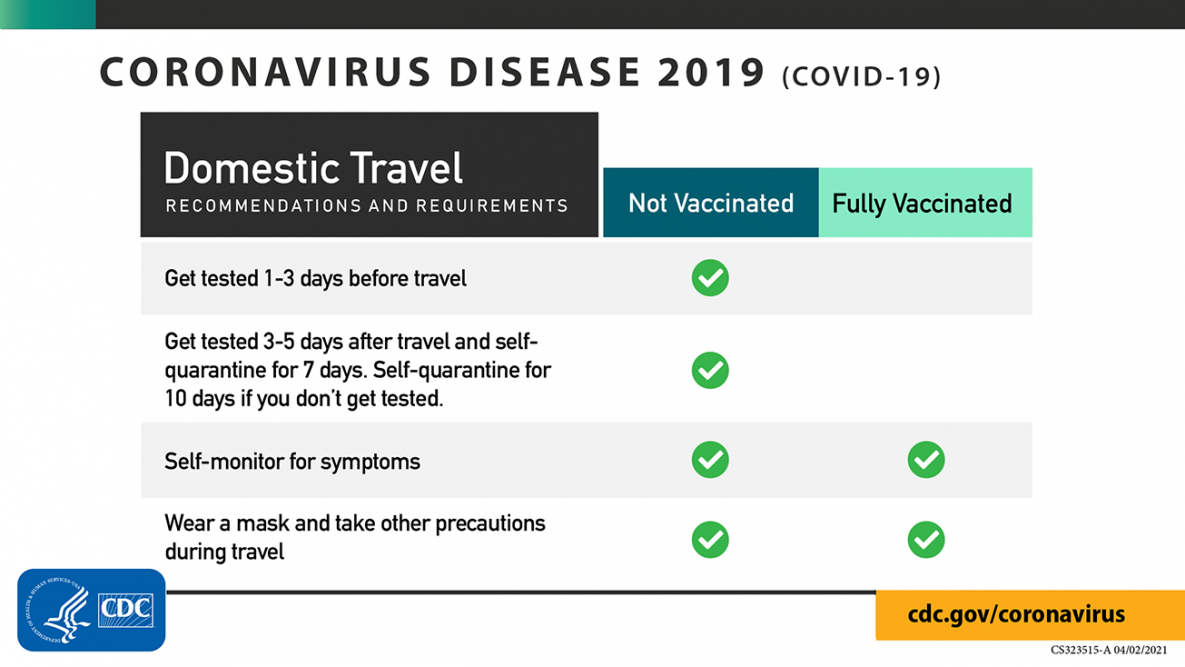 CDC Travel Resources
For domestic and international travelers, the complete CDC travel recommendations can be found here. Topics will assist you whether you are planning domestic or international travel with: safer travel ideas; requirements and health notices; when it's a "no go" or those that are prohibited from entry into the US; what to do after travel; cruise ship travel; and communication resources and FAQs. Check Travel Planner for state, local, tribal, and territorial government restrictions before traveling.
Timing is Everything
Finally, you may face the dreaded question of when to postpone your travel...
Check these common scenarios to see if you or your travel companions should postpone your travel. This list does not include all possible situations. Talk to your healthcare provider before you travel if you are unsure whether any of these situations apply to you or your travel companions. CDC will continue to update this information here as we learn more about COVID-19.
Be prepared! Getting trip cancellation insurance might help ensure you are able to make a last-minute cancellation or change your itinerary without losing money on flights, cruises, train tickets, or pre-paid lodgings.
Is tech support available?
Both the technology and instructional technology departments are available to assist with any technical questions or assistance you may need. Remote access software also provides a way to assist even when you are working off campus.
To request assistance please submit a service ticket or send an email to techsupport@sscc.edu.
How do I report my absence?
Can I check my voicemail remotely?
I have more questions...
Please contact Crystal Howland | Coordinator of Employee Benefits and Compensation via email or phone 937.393.3431 Ext. 2560. In ALL instances, contact your immediate supervisor first.
Additional SSCC Information
Employee Benefits Information
Southern State Community College is committed to the safety of our employees, students, and the general public and seek to minimize the negative impacts related to the coronavirus.
This is a stressful time. What counseling and support resources are available for employees?
Available to all Full Time and Part-Time Employees:
It can be frustrating when personal and or work-related problems surface, and it's unclear where to turn for help. When complications arise from stress, marital and family issues, parenting challenges, elder or child care concerns, depression, anxiety, substance use, and other emotional stressors, it's comforting to have someone to help.
Impact Solutions - https://www.sscc.edu/hr/impact-solutions.shtml
Offering confidential support and guidance for you and your family, including household members, dependents in and away from home, parents, and parents-in-law.
24/7 Live, immediate in-the-moment support and guidance provided by a licensed mental health professional at 800-227-6007
Available only to Full-Time Employees:
Grief Counseling Program with MMO - https://www.sscc.edu/hr/docs/grief-counseling-program.pdf
Not just for the loss of a loved one. Deals with loss of job/income, divorce, and more.
Goes through Employee Assistance Program (EAP) 1-800-624-5544
Health Advocate with MMO - https://www.sscc.edu/hr/docs/health-advocate-program.pdf
Health Advocate is available at no cost to employees, spouses, dependents, parents, and parents-in-law. Completely confidential. In a crisis, help is available 24/7.
Live Health Online with Anthem - https://www.sscc.edu/hr/anthem/live-health-online.pdf
Access to Board Certified Doctor 24/7
Access to Licensed Therapist in 4 days or less

To schedule your appointment, call 1-888-548-3432 from 8 a.m. to 8 p.m., seven days a week.

Access to Board Certified Psychiatrist in 2 weeks or less

To schedule your appointment, call 1-888-548-3432 from 8 a.m. to 8 p.m., seven days a week.