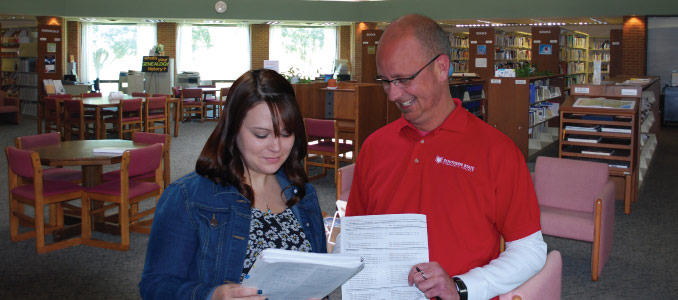 The advisors in Advising & Retention Services are your central resource for academic advising while you are at Southern State!
The office is located in room 404.10 on Central Campus and operates from 8:00am to 5:00pm, Monday through Friday. However, advising services are offered on all Campus Locations.
Mailing
Advising & Retention Services
Southern State Community College
100 Hobart Drive
Hillsboro, OH 45133
How We Can Help
We will be glad to help you with selecting courses, exploring, declaring or changing a major, understanding and dealing with academic warning and probation and would be happy to answer any questions regarding academic programs, courses, professors, etc.
Additionally, we can provide helpful study tips, refer you to other campus resources, offer advice and encouragement and provide informational websites.
Advising & Retention Staff
Academic advisors are generally assigned according to the student's intended major. The advisors in Advising & Retention Services are here to assist you with any of the various majors available at Southern State as well as answer questions you may have. Feel free to contact any of these individuals to schedule an advising appointment!
AmeriCorp Coaches
Faculty of various programs advise students who have declared majors in the program. After the initial beginning term of advising with the academic advisors, students will become acquainted with their program faculty advisor. Once immersed into the program, students are guided directly by the faculty member or in concert with the academic advisor.
Students in need of assistance in identifying or connecting with an advisor may call the Advising Center for assistance at 800.628.7722 ext. 2825.
Academic Warning & Probation
Requirements for Good Standing
It is to the advantage of every student to remain in good standing at all stages of the academic program. To remain in good standing, the student's cumulative grade point average must not fall below the following levels:
1.75 for 30 or fewer accumulated hours attempted
2.0 for 31 or more accumulated hours attempted
Students will also be reviewed to determine satisfactory progress. Progress standards are as follows:
Full-time students attempting 12 or more credit hours must successfully complete a minimum of eight credit hours per semester
Three-quarter-time students attempting nine to 11 credit hours must successfully complete a minimum of six credit hours per semester
Half-time students attempting six to eight credit hours must successfully complete a minimum of five credit hours per semester
Less than half-time students attempting one to five credit hours must successfully complete 67% of the credit hours attempted per semester
A student not in good standing at the end of any semester will be placed on academic warning for the following semester. A student not in good standing at the end of the second consecutive semester will be placed on academic probation for a maximum of two semesters. Students who fail to meet the requirements for good standing will be dismissed at the end of their academic probation period. The period of academic dismissal is for one calendar year. A student on academic dismissal will be allowed to re-enter after one year and will be placed on second semester academic probation upon re-entry. If the student makes satisfactory progress that semester, they will be removed from probation and be allowed to receive financial aid for future semesters. If progress is not made, the student will be academically dismissed for a period of one calendar year. The college reserves the right to waive this policy under extenuating circumstances.
The student is expected to attend every session of each scheduled course and, if absent, may be required, at the direction of the instructor, to make up work. Students must be in good standing to participate in co-curricular activities.
Choosing a Major
Deciding on a major can be a daunting task, but once a decision is reached you may have greater confidence and a sense of direction. If you don't know what to major in, your first step should be taking an assessment test.
Contact Career Services to get started!
Occupational Resources
Becoming a Successful Student
Follow these basic tips and you should see improvement in your academic career!
What is Advising & Retention Services?
The Advising & Retention Services was designed to provide academic advising services to prospective, new and current students at all campuses of Southern State.
Why should I see an advisor?
Advisors are here to help students make the transition to college but also to support them as they pursue their educational goals. Advisors help students select classes according to placement guidelines, make course recommendations, understand transfer credits, explore careers, understand major requirements and provide support and resources for the student's academic needs.
How often should I meet with my advisor?
Meeting with an advisor is recommended every time you need to register for courses as well as when you have questions regarding your academic progress. You are always welcome to drop in for a quick chat, but we recommend at least three times a semester. Those times are: first to prepare a schedule for the upcoming term, within the first week or two to discuss your current classes and then again at midterm to discuss your progress and courses for the upcoming semester.
What should I bring to an appointment with an advisor?
You should have your student ID, a degree requirement check sheet, list of questions you may have as well as a tentative course schedule. If you come prepared, the advising meeting is much more productive.
What if I don't know who my advisor is or I can't find/reach them?
Advisors are assigned based on your intended major. If you are unable to locate or meet with your assigned advisor, please contact Advising and Retention Services.
What is MySSCC?
MySSCC is a web portal which allows students to view their grades, view their current major requirements and needs, view their current financial aid award package, register for classes, drop/add courses and make tuition payments. In addition, students can log on to Blackboard if they are taking an online course, apply for FAFSA as well as check their student email.