Whether you are a business with technology requirements or an individual looking for career training, Southern State is committed to helping you succeed. We have developed strategic partnerships to deliver cost-effective training solutions that will keep you or your workforce competitive.
Southern State Community College is pleased to announce the launch of a new innovative known as the TechCred Program, which aims to enhance Ohio's skilled workforce by reimbursing employers (that's YOU) who help current or new employees earn industry-recognized, technology-focused credentials. Boosting Ohio's manufacturing talent pool is an important goal of the program. More information about this new program can be found at techcred.ohio.gov/wps/portal/gov/techcred/home.
Here are some key details that you should know about this program:
Businesses will identify the specific, technology-centric qualifications they need, as well as the employee(s) they want to upskill.
To qualify for reimbursement of training costs, the employer must partner with a training provider and apply online. Individuals listed in an employer's application must be Ohio residents with a verifiable Ohio address.
The state will reimburse up to $2,000 of training costs per credential upon completion. There is a limit of one reimbursement available per employee in each funding round.
Employers are eligible to receive up to $30,000 per funding round, and businesses of all sizes are eligible, according to the program guidelines.
Upcoming Application Period: TBD. Contact Amy McClellan at amcclellan@sscc.edu for more information.
The Ohio Manufacturers' Association was a strong supporter of the provision in Ohio's new two-year budget that appropriated $30 million to support this credentialing program. The state intends to fund 20,000 credentials over the next two years. For questions regarding TechCred, please email TechCred@development.ohio.gov
Southern State offers many types of training and programs, but we can go beyond our standard offerings and completely customize a program to meet your specific needs. Let us know what you need and we can design a non-credit, high-impact, condensed program to help you meet your company goals.
Do you need to improve customer retention? Would you like your staff to become proficient in utilizing all the new features of the latest Microsoft® Word or Excel versions? Would you like to improve general performance in a non-threatening environment? We can help with all of these and much more!
Contact us to learn more!
Business & Professional Development
If you are a business owner, an individual seeking to advance your career or are looking for retraining due to layoff or disability, we can help.
Ed2Go Online Training
If you have specific training needs for computer software such as Microsoft® (Excel, Access, Word, etc.) or Adobe® (Photoshop, Dreamweaver, Premiere, etc.), management and leadership skills or various other training, consider some of our Continuing Education Courses Online that can be completed in the comfort of your home.
Continue to Continuing Education Courses Online to learn more!
Online Programs
Develop Your Workforce With On-Demand Training
We have partnered with a premiere online training provider to offer our local manufacturers access to online modules that will fit your production schedule in multiple industry segments, including:
Foundational
Machining
Maintenance
Mechatronics
Welding
Additive, and many more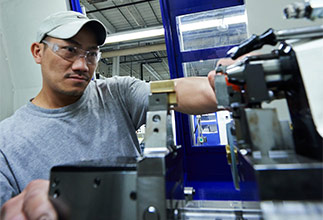 Cost of the program It depends on a number of factors, including your program, the number of students and the program length. In any case, online training has proven to be a cost-effective training solution that delivers strong results.
Registration — For more information or to register, Contact Workforce Development.
Please complete and submit this form and we will get back with you as soon as we can!
Amy McClellan
Director of Workforce Development & Academic Partnerships
800.628.7722 x3510