Accelerated Programs, Affordability, & Hands-On Training
We offer a comprehensive, hands-on truck driver training program that exceeds Ohio requirements for obtaining your CDL (Commercial Driver's License). Our approach means that most of your driving instruction time is spent in the truck; either on our closed course or on the road. Classes are small so you will be guaranteed the "behind-the-wheel" time that you need to begin your professional trucking career. And individual instruction means that you get quick answers and valuable driving experience. The costs below include instruction, licensing, and all endorsements. There are no hidden or additional costs.
After completing the program, you have the potential to earn $45,000 to $55,000 in your first year! Contact us to learn more!
| Training | Cost | Hours | Program Design |
| --- | --- | --- | --- |
| Class A | $5,300 | 160 | 4 Weeks or 8 Weekends |
| Class B | $2,900 | 80 | 2 Weeks |
| Passenger Bus | $900 / $2900 | 80 | 2 Weeks |
Class A - 160 Training Hours - The cost is $5,300. You do NOT need to have your permit prior to training. Tuition includes the following tests and endorsements: hazmat, doubles, triples, tankers, combination tractor/trailer, and air brakes. Your DOT physical and drug screen, permit fee, 2 attempts to pass the CDL test at the testing site with our truck, and the license fee. You can test up to 5 times with us. However, there are additional costs with each test. Class A students train in a 53' Trailer with a manual 450 hp, 10 speed, Tractor with sleeper cab.
Class B - 80 Training Hours - The cost is $2,900. This is a two-week program and is not available on the weekends. It runs the first 2-weeks with the Class A courses. Because it is only a 2-week program, you are required to have your permit prior to the start of training. The first 2 days you will be in the classroom. The remaining 8 days of training will be at the skills pad and on the road. The tuition includes the following tests and endorsements: Hazmat & finger printing, air breaks, tankers, your DOT physical and drug screen, 2 attempts to pass the CDL Class B test at the testing site with our truck, and the license fee. Class B students train in a manual Kenworth 6-speed single axle straight truck.
Program Start Dates:
The program can be offered at either of our 2 locations Wilmington & Piketon . The Wilmington classroom portion will operate at the Brown county campus, and we will continue to utilize the existing pad in Wilmington. This means students will have to spend their first week, or first two weekends, at the Brown County campus for their classroom instruction. The start dates for each location are listed below:
WeekDAY Class A CDL:
Class A training | April 10, 2023
Class A training | May 8, 2023
Class A training | June 5, 2023
Note: Weekday classes will be held Monday through Friday from 8:00am - 4:30pm.
WeekEND Class A CDL:
Class A training | May 13, 2023
Class A training | July 15, 2023
Class A training | September 16, 2023
Note: Weekend classes will be held Saturday and Sunday from 7:00am - 5:30pm.
WeekDAY Class B CDL:
Class B training | April 10, 2023 | Piketon
Class B training | May 8, 2023 | Wilmington
Class B training | June 5, 2023 | Piketon
Note: Weekday classes will be held Monday through Friday from 8:00am - 4:30pm.
How to Enroll:
Step 1: Register for the program
When you are ready to take the next step to a new, exciting career, complete the TDA Student Registration form to get started! This form is a secure DocuSign form that submits directly to Angie Devilbliss via email once you click submit at the end.
Before you begin the Registration Form please be aware the form will ask for your social security number, date of birth, driver's license number, email address, and your phone number. Once you complete the form and click submit, the document emails directly to Angie Devilbliss. Who will then get in touch with you.
Step 2: Pay for Tuition
If you are paying for the tuition out of pocket, you can call Angie Devilbliss at 937.393.3431 x4560 to pay over the phone with a credit or debit card. (Please make sure your daily spending limit will cover the cost of tuition by calling your bank first.)
If you need financial assistance paying for the tuition, you must first check with your county Ohio Means Job Community Action office. If you are not eligible for tuition assistance through your county, you must get the reason in writing and forward it to Angie Devilbliss at adevilbliss@sscc.edu before I can assist you with State financial assistance.
If your household income is low, you may qualify for the $2000 Short Term Certificate Scholarship through Southern State. Complete the Short Term Scholarship Application.
If you need to apply for a student loan, visit www.salliemae.com. Sallie Mae will determine whether to approve or deny your loan based on your credit score. Once approved, please notify Angie Devilbliss at adevilbliss@sscc.edu.
If you are a Veteran, we accept Chapter 33 Post 911 GI Bill for the Truck Driving Academy. You must present a current Certificate of Eligibility showing your eligibility percentage.
The CDL Certificate does NOT qualify for the FAFSA financial aid assistance.
Union Education Trust Vouchers can be used as a form of payment. You must request the vouchers from your Union Employer 45 days prior to your approved start date, then email the signed copies to Angie Devilbliss at adevilbliss@sscc.edu.
Step 3: Complete a DOT physical and drug test
Once the tuition is covered or paid in full, Angie Devilbliss will schedule you for a DOT physical and drug screen at one of our approved clinics, which is included in the tuition cost. This must be completed at least 10 days in advance of the start of training in order for the results to be returned to us. Once we receive an approved DOT physical and a negative drug screen your seat is secure.
The Truck Driving Academy starts driving classes once a month, and the official program start dates are listed above. Please Contact us for additional info. Our CDL school offers accelerated training that encompasses the wide variety of vehicle and truck and trailer combinations on the road today. Your program will be divided between classroom and hands-on driver training, covering everything from paperwork to backing, turning, and shifting on our closed course to complex maneuvers through city streets, but we'll take it all one step at a time, always making sure that you're ready before you progress to the next level.
Click to continue reading...
The course will begin with learning essential driving skills, regulations, safety, and basic mechanical systems. You'll move into the truck for realistic exercises on a closed course, and as you gain confidence, you'll drive on low-traffic roadways and city streets with tractor-trailer combinations. You will advance to road driving, combining your classroom instruction with driving skills, refining your knowledge, and practice on controlled courses designed to help increase your confidence on the open road.
During the last week of training, you will fine-tune your driving, routing, and paperwork skills, learn advanced shifting techniques, as well as how to handle your rig under differing road conditions. You will be able to complete runs on congested city throughways, handle common roadside mechanical repairs, and shift like the professional you have grown to be.
You will then be ready for a thorough review and practice test before taking the actual Commercial Driver's License exam. If you don't already have a job offer, you will now be ready for the Job Placement phase of your training.
We will be with you every step of the way! You will find that the difference in truck driving schools is the level of care and individual instruction each student receives. We sincerely want you to be equipped to reach your full potential and have a successful, well-paid career in truck driving!
Contact us to learn more!
Equipment
We have a fleet of vehicles including tractors, buses and numerous trailers you will train on. Our equipment is up-to-date and meets or exceeds all industry standards. We offer a variety of engines, transmissions and trailers. All of our equipment is clean, well-maintained and roadworthy.
When you walk out the door of the Truck Driving Academy with your CDL, you will be prepared to drive any commercial vehicle – from commercial buses to tractors pulling double trailers!
Qualifications
To qualify for employment as a professional over-the-road driver, you must be 21 years of age and hold a valid Commercial Driver's License. You must pass a DOT physical exam and an alcohol and controlled substance test.
For intrastate Ohio, applicants may qualify at 18 years of age. To enroll in the program, you must possess a valid Ohio driver's license.
CDL Permit Test Booklet
If you've ever thought of getting your CDL in Ohio, then now is an ideal time, and the first step toward that goal is studying the 2022 Ohio Commercial Driver License Manual. While there are hundreds of optional questions that could be on your CDL knowledge test, the answers to all of them are contained in the Ohio CDL manual, so studying it is the key to succeeding. You can view this manual at https://driving-tests.org/ohio/oh-cdl-handbook/
Passenger Bus Endorsement
Drivers who operate commercial motor vehicles (CMVs) with passengers are required to possess the proper endorsement according to the regulations of the Federal Motor Carrier Safety Administration. This endorsement will take two weeks to complete. If you received your Class A or B CDL through SSCC the Passenger Bus Endorsement will cost $900, otherwise the cost will be $2900. Contact us to learn more!
Every student is offered free job placement assistance after graduation. Recruiters from major carriers visit the Truck Driving Academy on a regular basis to interview prospective drivers. As you will see when you visit their sites, some positions offer tuition reimbursement, which means free training!
We partner with many respected companies to provide employment for graduates as well as driving solutions for transportation providers. View our Jobs & Resources webpage to learn more.
Fees & Financial Resources
The cost for the Class A weekday or weekend programs is $5300, and the cost for the Class B weekday program is $2900. This will cover the entire cost of the program (instruction, materials, truck driving time, and practice tests) as well as state-required testing and licensing fees and DOT-required physical and drug screen. HAZMAT Endorsement is included in the program cost as well.
Financial Resources
Truck Driving Academy accepts payment for educational expense through the following:
1. Notify your local Ohio Means Job office for availability of WIA grants
2. Apply for a Sallie Mae student loan either by calling 1.800.695.3317 or at salliemae.com
We are a recognized training provider for the Ohio Workforce Investment Act (WIA), the U.S. Veterans Administration, the Trade Adjustment Act, and many others.
You may also find that some employers offer tuition reimbursement. Many of our graduates receive employment offers before they graduate, and some of these positions offer reimbursement. Be sure to ask your potential employer about any free training that may be available!
Contact us to find out what you may qualify for!
You can attend our training course at our original driver training Pad located at 370 Davids Drive in Wilmington, and we also offer training in Pike county.
Pike County CTC
175 Beaver Creek Rd, Piketon OH 45661
View Map
Please complete and submit this form and we will get back with you as soon as we can!
Amy McClellan
Executive Director of Workforce Development
800.628.7722 x3510
J.T. Smith
Director-Training Manager
800.628.7722 x4535
937.393.3431 x4535
937.444.7790 (Fax)
Angie Devilbliss
Office Manager
800.628.7722 x4560
937.393.3431 x4560
937.444.7790 (Fax)
Employee Verification / Past Inquiry Requests
Please email all Employee Verifications and Past Inquiries to Angie Devilbliss at adevilbliss@sscc.edu.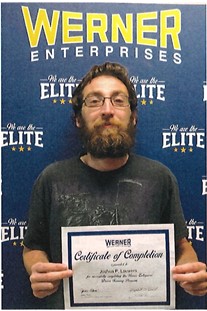 Congratulations and Thank You. Werner Enterprises is extremely proud to put the safest and most productive professional drivers on the road year after year, and we wouldn't be able to do that without your help. We appreciate everything that you and your staff do to prepare students to become professional drivers and begin their career with Werner. This letter is just a token of our appreciation to you and your staff for the outstanding job you did in helping to prepare one of your former students to become a Werner Enterprises team member. We are confident that your school will continue to provide the trucking industry and Werner with high-quality and well-trained students. If we can assist you in any way, please do not hesitate to call us at 1.888.4WERNER.

Jim Morbach
Vice President
Field and Government Recruiting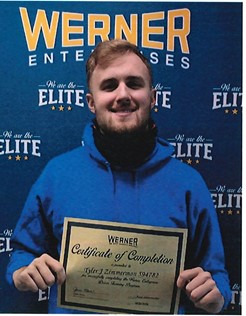 Congratulations and Thank You. Werner Enterprises is extremely proud to put the safest and most productive professional drivers on the road year after year, and we wouldn't be able to do that without your help. We appreciate everything that you and your staff do to prepare students to become professional drivers and begin their career with Werner. This letter is just a token of our appreciation to you and your staff for the outstanding job you did in helping to prepare one of your former students to become a Werner Enterprises team member. We are confident that your school will continue to provide the trucking industry and Werner with high-quality and well-trained students. If we can assist you in any way, please do not hesitate to call us at 1.888.4WERNER.

Jim Morbach
Vice President
Field and Government Recruiting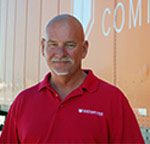 "Southern State's Truck Driving Academy has been a big part of my life - for the past 13 year to be exact. I started here as a student, received my Class A license and am now teaching others how to drive a truck under this program. The small class sizes really allow for a lot of student/instructor time. It is close to home and affordable."

Tony E. | SSCC Truck Driving Academy Instructor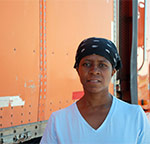 "The Truck Driving Academy at Southern State has small classes sizes, which I like. The friendly staff and comfortable atmosphere are great for learning. Southern State has been very helpful at making sure I received funding to help offset enrollment costs. I am happy I chose the Truck Driving Academy at Southern State to assist me in getting my commercial driver's license."

Patricia C. | SSCC Truck Driving Academy Alumni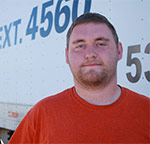 "It was through my family and friends that I heard about the Southern State Truck Driving Academy and how good the program was. Now that I am enrolled, I am very pleased and would have to agree with them. The classes are very informative and I have learned a lot about how to operate a semi safely."

Robert F. | SSCC Truck Driving Academy Alumni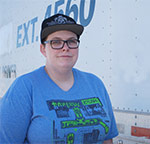 "I chose to attend the Truck Driving Academy at Southern State because it was close to my home. I would definitely recommend this program to anyone considering truck driving as a career. I received lots of hands on experience, which made me feel confident about getting a job. Southern State's Truck Driving Academy has put me on the path to getting my CDL. I can't wait to see what opportunities this will bring!"

Suzy E. | SSCC Truck Driving Academy Alumni