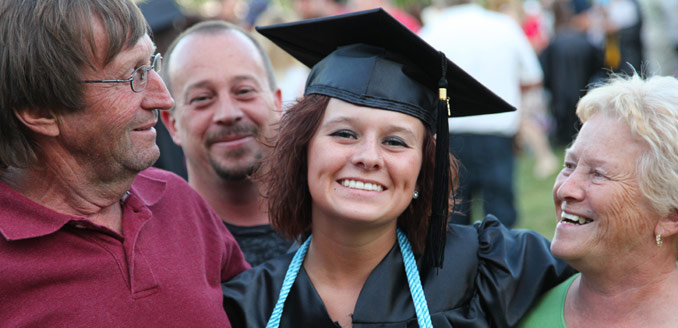 Congratulations! All your hard work has (almost) paid off.
How to Apply
To qualify for graduation, you must:
have completed the requirements of one of the designated degree programs with a minimum of 60 semester hours of credit together with a minimum GPA of 2.0 ("C") at Southern State (see program outlines for specific requirements);
have earned at least 20 semester hours of credit at Southern State if receiving an associate degree or 18 semester hours of credit at Southern State if receiving a one-year certificate (developmental courses numbered below 100 are taken in addition to any degree program and may not be used to satisfy basic degree requirements; students may use up to six hours of remedial classes numbered 100 and above as electives in their programs);
have submitted an Application for a Diploma to the Records Office one month prior to the start of the semester in which you expect to graduate; and
pay the required graduation fee at the time of application in the Bookstore.
After Graduation
We continue to offer services to our alumni including career search and development. Check out the Student & Alumni Resources section under Career & Counseling Services for more information!
We hope you'll keep in touch with us through Facebook!
Details of the 2015 graduation commencement ceremony will be posted below.
When
Friday, May 8, 2015 at 7:00pm
Candidates should arrive between 5:30pm and 6:15pm in the lobby of Central Campus.
Each year the college attempts to obtain information about our graduates after graduation to determine how well we did our job. The results from the survey are used to help us improve the educational experience for future students. Our ability to obtain your feedback is also vital to our continued accreditation.
This survey is for Summer 2013-2014 Graduates (by Invite ONLY).
Survey is available from February 2nd – March 16th. Take the Survey
This survey is for 2014 July ADN Graduates (by Invite ONLY).
Survey is available from February 2nd – February 27th. Take the Survey
This survey is for 2014 May ADN Graduates (by Invite ONLY).
Survey is available from February 2nd – February 27th. Take the Survey
This survey is for 2014 July PN Graduates (by Invite ONLY).
Survey is available from February 2nd – February 27th. Take the Survey