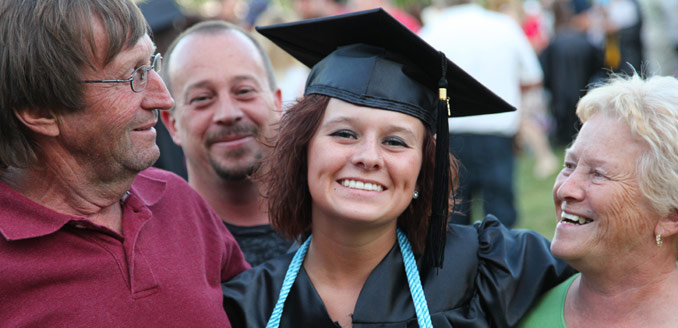 Congratulations! All your hard work has (almost) paid off.
How to Apply
To qualify for graduation, you must:
have completed the requirements of one of the designated degree programs with a minimum of 60 semester hours of credit together with a minimum GPA of 2.0 ("C") at Southern State (see program outlines for specific requirements);
have earned at least 20 semester hours of credit at Southern State if receiving an associate degree or 18 semester hours of credit at Southern State if receiving a one-year certificate (developmental courses numbered below 100 are taken in addition to any degree program and may not be used to satisfy basic degree requirements; students may use up to six hours of remedial classes numbered 100 and above as electives in their programs);
have submitted an Application for a Diploma to the Records Office one month prior to the start of the semester in which you expect to graduate; and
pay the required graduation fee at the time of application in the Bookstore.
After Graduation
We continue to offer services to our alumni including career search and development. Check out the Student & Alumni Resources section under Career & Counseling Services for more information!
We hope you'll keep in touch with us through Facebook!
When
Friday, May 2, 2014 at 7:00pm
Candidates should arrive between 5:30pm and 6:15pm in the lobby of Central Campus.
Where
Commencement will be in the Patriot Center on Central Campus, 100 Hobart Drive, Hillsboro, OH 45133. See map for directions.
Academic Regalia
Any graduate who ordered a cap and gown must pick them up at your campus Bookstore (see campus bookstore for hours). Please pick up your cap and gown before Thursday, April 24. You will not be permitted to walk in the ceremony if you do not have a black cap and gown.
Guests
Seating is on a first come, first serve basis. Ushers will be available to direct guests to seating.
Sign-In
All graduates are to sign-in between 5:30 and 6:15pm in the lobby. You will receive your name card, honor cord (eligibility based upon accumulative GPA at the end of fall semester) and a graduation procedure sheet. Please do not be late. After signing in, graduates need to report to the Edward K. Daniels Auditorium to line up. The degree you earned will determine the line-up order.
Line Up
Candidates will line up fully dressed in the Edward K. Daniels Auditorium. Please do not bring any personal items that you cannot carry on you during the ceremony.
Photographs
USA Foto, Inc. will photograph you as you shake hands with SSCC President, Dr. Kevin Boys. Approximately two weeks following the ceremony, you will receive one free proof along with details and information regarding purchase.
Graduation Video
There will be a videographer recording the ceremony and you will have the opportunity to give your testimonial prior to commencement.
Rose Sale
Student Government Association will be selling roses at the commencement for $3 each, 2 for $5 or $30 for a dozen.
Accessibility Concerns
Candidates requiring accommodation assistance because of disability should call the Records Office at 800.628.7722 x2616, by April 15. Seating areas are available for guests who use wheelchairs or cannot climb stairs with family seating in nearby arena seats.
Honors
To be eligible for graduation honors, a student must have completed all requirements for the degree with a minimum of 20 semester hours of credit at Southern State. Candidates with a cumulative grade point average of 3.90 or higher will be graduated Summa Cum Laude; with a grade point average between 3.75 and 3.89, Magna Cum Laude; with a grade point average between 3.50 and 3.74, Cum Laude. Honor cords will be given when you check in the evening of the ceremony. Honors are based on cumulative grade point average at the end of fall semester.
Candidates who are a member of Phi Theta Kappa and would like to have a PTK stole, tassel and/or cord can order them Online.
Transcripts
Degrees are typically posted to the transcripts within two weeks of the end of the semester. If you order a transcript before your degree is posted, mark the request to indicate that the transcript should be sent after the degree is posted.
Diploma
Diploma covers will be given the night of graduation. Diploma inserts will be mailed to each student approximately four to six weeks after the end of the graduating semester. If you do not attend graduation, the cover and diploma insert will be mailed approximately four to six weeks after the end of the graduating semester.
Any financial obligations owed to the college (including child care) must be paid in full before a diploma will be released. If you are unsure if you owe money, please contact Linda Steadman in Student Accounts at 800.628.7722 x4699.
Tips for an Extraordinary Ceremony
Please notify the name reader as you cross the stage as to the proper enunciation of your name to ensure that it is pronounced correctly during the commencement ceremony.
Leave personal items like coats and purses with guests. There are no facilities available for storing these items during the ceremony; therefore, Southern State cannot be held responsible for any lost, stolen or damaged items.
Arrive early enough to allow adequate time to line up by degree. Please arrive no later than 6:15pm.
There is no formal rehearsal for the ceremony, although a detailed explanation of the ceremony will be reviewed in the Edward K. Daniels Auditorium. You will be assisted as you line up and proceed to the Patriot Center to your seat.
Direct your guests to the seating area when you arrive.
Dress appropriately for this special occasion.
Each year the college attempts to obtain information about our graduates after graduation to determine how well we did our job. The results from the survey are used to help us improve the educational experience for future students. Our ability to obtain your feedback is also vital to our continued accreditation.
The survey is available for only Graduates from this fall semester.