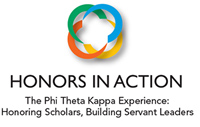 Phi Theta Kappa has an Honors Program, Honors in Action, designed to engage honors students in actions that foster student success and help fulfill our two-fold mission to:
Recognize and encourage scholarship in a lively exchange of ideas and
Develop leaders who serve their communities.
The Honors in Action Project
By participating in a chapter's Honors in Action Project, members have opportunities to apply learning and practice real--world problem-solving by developing an in-depth, action-oriented project related to research of an Honors Study Topic.
Academic research into the themes related to the Honors Study Topic is what makes Phi Theta Kappa's honors program unique and defines the difference between Honors in Action and simply action. Honors in Action is action informed by research, which makes a lasting impact and contributes to the betterment of society.
Check out the Honors in Actions page for a look at the steps involved in implementing an Honors in Action Project.
Develop Skills for Success
By engaging in Honors in Action, students develop and demonstrate skills that will serve them not only in their academic pursuits, but also in careers and life. Such skills include
Awareness of the importance of seeking multiple perspectives to enhance understanding and improve decision-making
Ability to draw research conclusions and develop ideas to make a difference
Effective planning and capabilities to initiate action
Intentional and purposeful efforts to grow leadership skills
Understanding of the need to involve others and work together
Ability to lead and manage self and others to motivate, overcome obstacles, perform in complicated environments and accomplish goals
Skills to assess progress, adjust to circumstances and measure results quantitatively and qualitatively